Ex. Sandwiches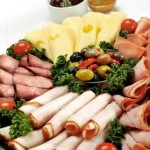 Cold Cut Platters: Chicken platters, Sandwich platters, mini-sausage rolls, pies, hot-dogs &more. Our party platters are really tasty and affordable.  
CRAVES Soul Food Platters starting at: $30 Half – $56Full
Party Sandwiches – 24 sandwiches loaded with selected hand sliced fresh meats and vegetables. We create them on a delicious baked roll to perfection. You have a choice of lettuce, tomatoes, pickles, onions, mayonnaise, ketchup, mustard, or hot peppers. Try a tray of 24 (serves 10-12)
CRAVES Family Favorites:
Auntie Nett's: Chicken Salad Spread with Crackers or Dinner Rolls.
Aunt Carmen's:  Spinich Dip in Bread Bowls!! Yumm…
Cheese Tray-
Bite Size sharp Cheddar Cheese
Hslf ($18.00)
Full ($30.00)
Meatballs
Half ($22.00)
Full ($40.00)
Serves 20-30
Classic Carolina Caviar-Palmetto Cheese
Pinwheels (Ham and Cheese) $59.99
Cranberry n' walnut cream cheese mini's $37.99
Deviled Eggs $35.99
Raw Vegetables, Olives & Dill $59.99
Peel & Eat Shrimp $TBA
Cheese and Cubed assorted meats $64.99
Assorted Crackers
Rolls and cornbread puffs $19.99
Salads, Seafood, Crab Salad, Pasta, Garden $TBA
 Chicken Salad Spread
Spinach or Collard Green Dip
Bread Bowls
Priolue Rice*
Pimiento Cheese begets
 Mini Salmon patties w/ tangy dill sauce 
Mozzarella, tomato and basil sticks
Mozzarella, pepperoni and basil sticks
Soup
Okra Gumbo- no meat
Lima- no meat
Delicious Desserts
Cream puffs and chocolate mini pastries 39.99
CRAVES Banana Nut Bread Platter  $25.99
Meats
Chicken Winglets
Fried /Baked
Chicken Winglets
Hot, Mild, Regular
Dips; Honey Mustard, Ranch, Blue cheese, BBQ
Sweet Potato & Potato Bar
Includes; Baked potato w/ toppings,  
Carving Station
Ham, Roast Beef or Chicken, Sausages, Turkey
Beverage Bar
Non- alcoholic (Can Refer for Alcohol)
CRAVES Ice Tea(Sweet/ unsweetened)
Lemonade, Water, Juices, Sodas
Coffee, Hot Tea (assorted herbal Teas or Reg.)