Archive for August, 2009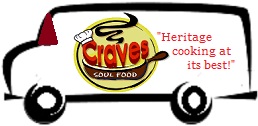 "A Taste of CRAVES Catering"
Traditional or a Customize Menu
Pickup or Delivery!!
$450 minimum for delivery unless Special offer!
All delivery orders are served in sturdy catering tins.
Serve approximately 20-25 people.
Note: items and pricing subject to change due to market and seasons.
You Choose: (1) One meat or Two (2) Traditional meats (½ order of the two choices).
Regional flavors of the Lowcountry… $2 -5.00 per person
Turkey Wings baked with brown gravy
BBQ or BAKED Chicken
Sliced Glazed Ham
CRAVES Island Meatballs (sweet n sour beef meatballs)
BBQ or Mushroom Meatballs
Oxtail and potatoes w/ brown gravy
Smothered Pork Steak
Meatloaf Beef  with tomato based sauce
Liver & Onions
Meatloaf Sliders
Hamburgers or Hotdogs (Beef)
Shrimp n' Grits (w/ homemade brown gravy) see below.
Frogmore or Shrimp Boil (see below.)
BBQ Ribs
Winglets & Drummettes  serves 3-5  pcs per person
BBQ
Hot
Mild
Bourbon
Island
Plain
Honey Mustard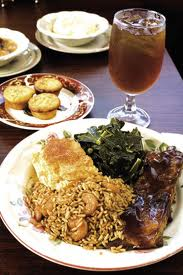 Veggies and more: $1.29 -3.75 per person
  Baked Beans Traditional or Vegetarian*
Kernel Corn*
Sweet Potato Mash*
Roasted Vegatables
  Carrot Soufflé*
  Sauteed Cabbage w/ yellow, read, n ' green
peppers*
Cob Corn*
Candied Yams*
  Butter Beans*
Green Beans*
  Green Beans w/ potatoes*
  Collards w/ or w/out meat*
Okra Soup Traditional or Vegetarian*
Lima Beans Traditional or Vegetarian*
Bread Pudding*
Mac n' Cheese*
Oven baked mac n' cheese (5) Five cheeses
Prioleau (Baked Rice Dish)
Red Rice w/ beef sausage
Hoppin John (beans n' rice)
Vegetable Prioleau
Ham Prioleau
Turkey Prioleau
Chicken Prioleau
White or Brown Rice
Potato Salad
Cucumber Garden Salad
Sliced Watermelon & Pineapple
Tasty Sweets: $3 -4.95 per person
Charleston Chewies w/ or w/out nuts
Chocolate Chip Cookies
Sweet Potato Pie
Peach Cobbler
Pound Cakes
Rum Balls
Chilled Desserts: $3 -4.95 per person
Banana Pudding Traditional or Sugar Free
CRAVES "Island Delight" Cake
(golden cake topped w/ layers of pineapple, vanilla pudding, whip cream, cherries, optional coconuts, and pecans)
CRAVES "Chocolate Delight" Cake
(chocolate cake topped w/ layers of pineapple, chocolate pudding, whip cream, chocolate chips, cherries, & optional almonds)
Ready-to- serve mini sandwhiches. Pick any combination.
made w/ assorted breads flaky croissants stuffed
soft whole wheat & white rolls
maple glazed ham & cheese
roast beef & cheese
tuna
turkey
chicken Salad
egg Salad
Palmetto Cheese
Includes extra condiments: mayo, mustard, relish.
Shrimp and Grits – market price
with homemade brown gravy; optional side of Cheddar Cheese and Butter
Frogmore Stew
"Peel and Eat" or  Shrimp Boil  – market price
local shrimp, sausages, potatoes, cob corn, herbs n' spices.

Proposed Menu:
Call for custom menus designed to your taste and budget.
843.926.0513
 Note: items and pricing subject to change due to market and seasons
Group Rates available.